In the next three posts, Lee Jones and Peter Ramsay reflect on the British general election result and what it tells us about the persisting popularity of Brexit, the effect of the EU referendum on British democracy and the prospects for Corbyn's Labour Party.
---
When Prime Minister Theresa May called a snap general election for 7 June, it was meant to be "the Brexit election". Claiming that she faced resistance on Brexit from other political parties wishing to thwart the people's will, she demanded a fresh mandate – i.e. a vastly expanded majority – to push through the Article 50 talks. In the event, the election campaign barely touched on Brexit. Neither side had a detailed or compelling vision for the Article 50 talks. This was disastrous for May. Unable to make Brexit the detailed focus of the election, she allowed Corbyn to reframe it as being about issues where the Tories were weakest, like public spending.
The sheer lack of discussion about Brexit makes it absurd to try, as some commentators have, to present the result as "the revenge of the Remainers". The available data also disprove this claim (the following draws on the first post-election poll by Lord Ashcroft).
Data on which party Leave and Remain voters supported in the 2015 and 2017 elections do not suggest any Remainer "revenge". In 2017, the main shift was in Leave voters from UKIP to the Tories. Labour, however, picked up both some Leave voters – from both UKIP and the Tories – and some Remain voters, from both the Tories and LibDems. Crucially, this was only possible because Corbyn has rightly insisted on respecting the referendum result and ran on a pro-Brexit manifesto. Without this, the Tory raids on Leave-voting Labour constituencies might well have succeeded. The LibDems' collapse also showed there was simply no mileage in a "Remoaner" strategy.
Voted Leave
Voted Remain
Party supported
GE 2015
GE 2017
Change
GE 2015
GE 2017
Change
Con
42%
59%
+17
28%
24%
-4
Lab
19%
25%
+6
38%
50%
+12
LibDem
14%
4%
-10
13%
14%
+1
UKIP
23%
6%
-18
1%
0%
-1
Table 1: How Leave and Remain voters voted in 2015 and 2017 elections
We can also look at this the other way around: how supporters of each party voted in the EU referendum. This shows that, while Tory voters have become much more pro-Brexit, reflecting the UKIP influx, attitudes among Labour voters have remained remarkably consistent (the pattern is identical if we look at the degree of enthusiasm about Brexit).
Proportion of party supporters voting Leave
Proportion of party supporters voting Remain
GE 2015
GE 2017
Change
GE 2015
GE 2017
Change
Con
58
68
+10
41
73
-11
Lab
31
31
0
67
30
-3
LibDem
25
19
-6
73
64
+5
Table 2: Proportion of party supporters in 2015 and 2017 who voted Leave and Remain
Similarly, in determining voter choices, Brexit was strikingly marginal for a so-called "Brexit election". Although it was the top issue overall, this disguises a stark divide between Labour and Tory voters. Put simply, only Tory supporters believed May's claim that the election was about the Brexit talks and "strong and stable leadership". Everyone else was more concerned about public services. People were not simply polarised into Leave/Remain camps. This is arguably because, as polls show, the vast majority of voters have already accepted, reluctantly or otherwise, that Brexit will happen. In this election, many were apparently looking beyond the immediate Article 50 negotiations and asking what sort of country they wanted to live in after Brexit. Many found Corbyn's vision more compelling.
| | | | |
| --- | --- | --- | --- |
| Top Issue | Total | Con | Lab |
| Brexit | 28 | 48 | 8 |
| NHS | 17 | 3 | 33 |
| Economy | 8 | 11 | 6 |
| PM | 8 | 13 | 4 |
| Immigration | 6 | 9 | 3 |
| Cuts | 5 | 0 | 11 |
| Terrorism | 5 | 7 | 3 |
| Poverty | 4 | 0 | 7 |
| Education | 3 | 0 | 6 |
Table 3: Top issues for party voters
The same picture emerges if we look at voters' top three issues.
Ranked 1st
Ranked 2nd
Ranked 3rd
Con
Lab
Con
Lab
Con
Lab
Trusted motives
8 (-3)
25 (+1)
10 (-3)
26 (+1)
15 (-1)
16 (+1)
Exiting EU
31 (+9)
3 (-3)
26 (+3)
6 (-2)
17 (-)
10 (-1)
Preferred policies
4 (-4)
26 (+5)
7 (-2)
23 (+1)
10 (-)
16 (-)
Better PM
25 (+4)
9 (-1)
26 (+4)
12 (-)
21 (-1)
15 (+1)
Always voted this way
10 (-1)
13 (-4)
3 (-)
5 (+5)
4 (-)
7 (-2)
Economic management
16 (-10)
8 (-)
22 (+1)
14 (-)
26 (+3)
17 (-)
Tactical
4 (-)
9 (+1)
2 (-1)
4 (-)
2 (-)
5 (-1)
Local candidate
4 (-1)
7 (-)
3 (-1)
6 (-)
3 (-1)
6 (-)
Table 4: Top issues for party voters in 2017 (change since 2015)
The fact that the "Brexit election" wasn't actually about Brexit has two, somewhat contradictory, consequences. First, it resists efforts to paint the result as saying anything decisive about the issue. Some Brexiteers have tried to claim that, with 83% of voters opting for formally pro-Leave parties, there is now a strong mandate for Brexit. Contrariwise, some Remainers have argued the result shows no support for a "hard Brexit", necessitating a "softer" option, while Remoaners have again rekindled their fantasies about negating the referendum result. All of this is nonsense. A poll taken on the anniversary of the Brexit vote shows the country stubbornly split, 52/48 in favour of Leave – a division that has persisted throughout the last year, despite endless recriminations and scaremongering. People's views have not really changed; the election was not polarised around the Leave/Remain divide; and the vote tells us surprisingly little about people's detailed thoughts on Brexit.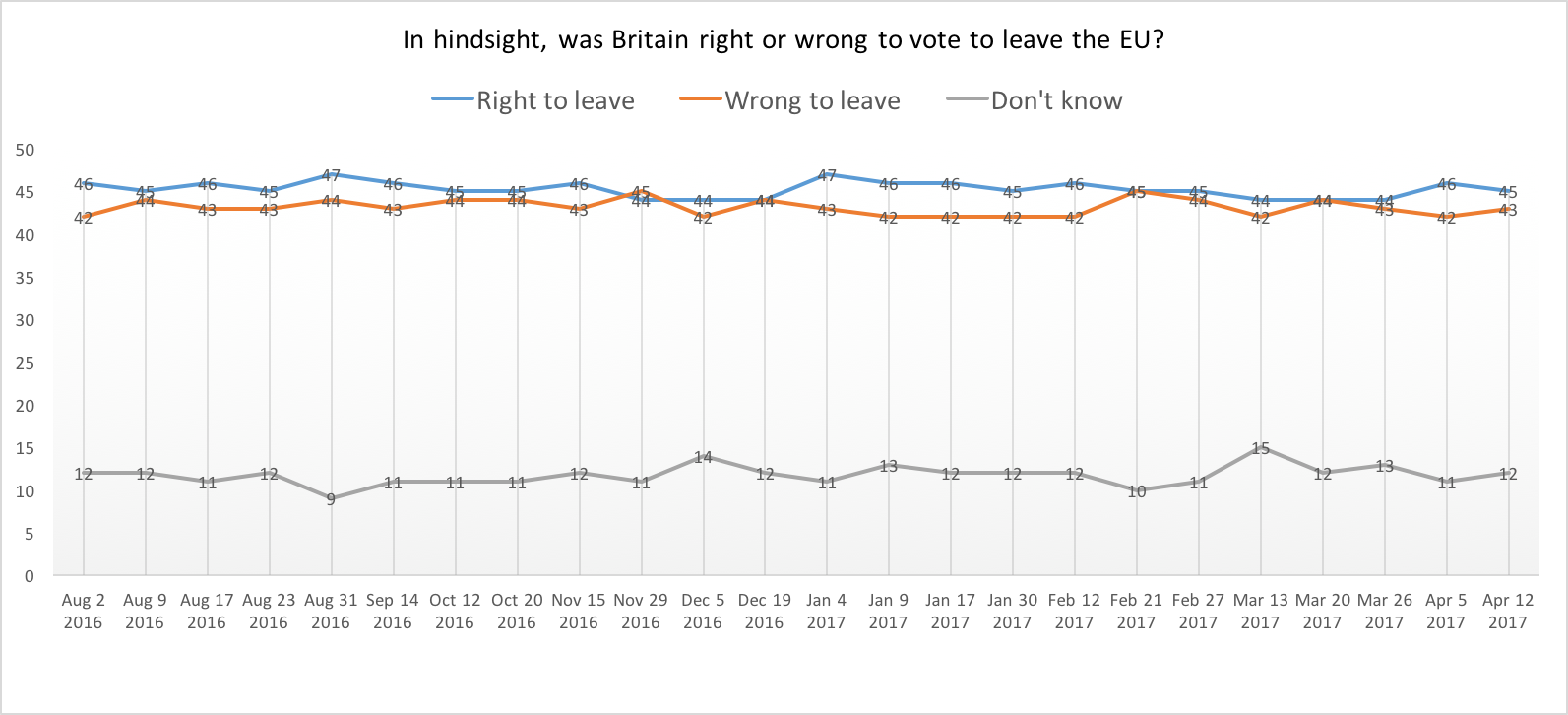 Source: YouGov, April 2017
The second consequence is that, lamentably, the country has still not yet had a serious debate about the shape that Brexit should take. As TCM said last year, the referendum debate was atrocious, with the Leave campaign failing to articulate either a sensible analysis of the EU or a coherent vision of post-Brexit Britain. The Eurosceptic view of the EU as a superstate dominating Britain was always factually wrong. As we have explained, the EU is rather a means by which all member-state governments (the UK's included) rule their own populations while avoiding political accountability to them. Just as their understanding of EU was a fantasy, so the Eurosceptics' nostalgic solution of a return to British democratic institutions missed the point. Much of the Leave vote was motivated by the general political accountability gap (of which the EU is one key aspect), and it was therefore as much a vote against the Westminster as it was against Brussels. Eurosceptic nostalgia for the pre-Maastricht order (or, more ridiculously, for the Commonwealth and the Empire) has only limited popular appeal.
Accordingly, while the electorate opted for Brexit, what that actually meant in practice had yet to be defined. Against populist calls for the swift invocation of Article 50, we wanted to see more debate to determine a collective agenda. However, rather than engaging their constituents and debating the future, MPs and others wasted the following year in panic, recrimination, internal leadership struggles, and futile efforts to stymie the result using the courts. When Theresa May eventually invoked Article 50, then, it was on terms defined by her alone and, as we warned, it merely led the British government into a bureaucratic negotiation process that is stacked against it (and, it turns out, wholly reversible in any case). This also created a risk of further bolstering of executive power with May's "Henry VIII" approach to the Great Repeal Bill, and her bid for executive supremacy through an overwhelming electoral majority.
In declining to give Theresa May the overwhelming majority she sought the electorate has once again flexed its muscles. May is left with a hobbled minority government, barely able to negotiate a deal with the Democratic Unionist Party, let alone the EU. In the longer term, this could turn out to be a good result for the restoration of representative democracy and parliamentary sovereignty. Much depends on whether a parliament that is still disproportionately pro-EU in its sympathies can manage a credible political debate over Brexit, one that takes the settled view of the electorate seriously. So far it has signally failed to step up to the task.
Yet Theresa May – or whoever replaces her – will struggle to get any of the seven EU-related bills through parliament over the next two years. The government will have to abandon its previous approach to Brexit and submit to meaningful parliamentary debate and scrutiny. Already, schemes have been mooted for cross-party discussions or even some sort of corporatist steering group. But these proposals are positive only insofar as they do not seek to remove Brexit from the sphere of democratic contestation. The country's future should not be hived off into a small cabal of political and economic elites, insulated from public debate, where the influence of Remainers will be disproportionately high.
Ultimately, the referendum was a protest vote that succeeded, but a protest vote in itself does not produce new political ideas. Without new political ideas it will be tough for Britain really to break free of the interests that currently dominate our political life or of the institutions that serve those interests
Lee Jones and Peter Ramsay